This is not (just) an airport
Paris loves artists, Paris loves travellers, Paris loves dreamers! This contemporary metal work of art is sure to stop you in your tracks as soon as you enter the airport. Take a moment to pause in front of the flying saucer look-a-like, topped with Paris vous aime [Paris loves you] in neon red and blue, and take in the frenetic atmosphere that surrounds you. You've just got here and yet you're about to set off to somewhere else. But take a seat on our bench for a little while, smell the air and dream. The airport tells its story before your very eyes. Welcome to Orly!
Cut-throat or cutting edge?
Gentlemen, are you more into Garibaldi's beard or Van Dyke's? A handlebar or horseshoe moustache? From celebrity names to the most eccentric shapes, the history of men's facial hair crosses trends and eras. Counterculture or fashion victim, it expresses a personality – yours! So take time before you take off to assert your individuality in the expert hands of our professional barber. Located in the heart of Orly 3's shopping area, the barber corner is sure to treat you to a moment of well-being far from your hectic daily life – and for free. Close your eyes and relax, we'll take care of everything!
Something for everyone
An unlimited make-up area, a BuY Paris Collection to shake up your wardrobe from head to toe, or even a Candy Box for those with a sweet tooth. Take a stroll around our central square, teeming with lots of trendy brands. Hunt for a bargain, chill out or do a bit of both. Whether you're an enthusiastic shopaholic or more cool-headed, discover our beauty, accessories and fashion ranges, as well as our multimedia signs before taking a break in the centre of the square to sit back and relax. A single space with lots of possibilities.
Artistic heights
9 m tall, 3.5 m diameter, 150 different-size cubes. Made from stainless steel and mirrored aluminium, Vertigo takes over the shape and design of the central square. A unique work of art by Arnaud Lapierre, this installation offers you – in the words of its creator – an "immersive experience to discover an aerial sensation." The sculpture in fact evokes "the control tower, turbine, projection, take-off and ascent". A contemplative and enigmatic totem and a pause for thought that creates the feeling of floating mid-air.
A delectable stopover
Head to our universe dedicated to world cuisines and let your imagination and wanderlust run wild. Take to the heights of the mezzanine in the central square where the restaurant area will transport you to another location. Japanese, Italian, coffee shop or burgers, not to mention something for veggies… Cosmopolitan and quality street food. Whether you're in a rush or want to take it easy, there's a pace and dining experience to suit everyone and all tastes. For those with small appetites and those with hollow legs!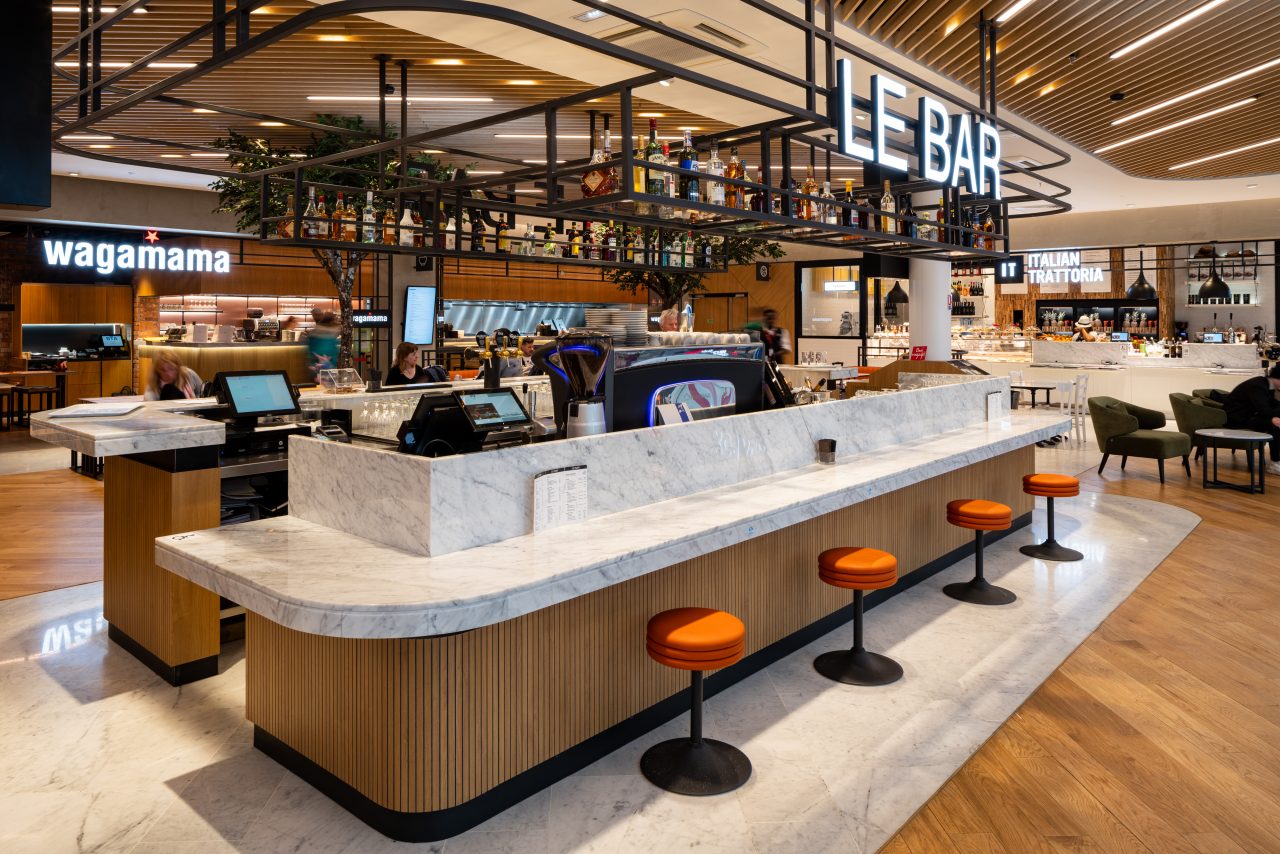 Bistro Cocorico, a uniquely French journey
Your journey begins with a dish and not just any dish, one made by Anne-Sophie Pic, the most starred chef in the world. At the Pic's, cooking is a family affair. With a sprinkling of the south of France, old and new flavours, take a seat at Comptoir André, Bistro Cocorico and enjoy a bounty of food. A cosy and woody atmosphere, where you can watch the chefs show off their skills and create signature dishes with a daring twist. A unique moment to savour that's not to be missed.
Let's play
Fifa, Dragon Quest or Lego? Multiplayer or solo? The latest PS4 games are waiting for you for a game or two… or maybe more! Here you can chill out and play, or get competitive and improve your top scores, wowing your family, friends or roommates on your return home. A moment of pure gaming, where eyes light up or become glued to the screen. A friendly and cheerful space, that's also open for anyone to come and watch, if that's what you prefer. It's your turn!
Music, maestro!
Is that piano notes that you hear? Follow them, let them guide you, one note after the other, to a white grand piano at the end of the departure lounge, facing the runways. Sat on the stool an unknown virtuoso puts on a concert – listen along and cheer them on. Just like you, this passenger awaits their flight… but with a musical accompaniment. They're sure to offer you their place right after – your new concert hall awaits you! For music right at your fingertips.
Related content
From a quick lunch to a chef's meal

Discover all the cafes and restaurants in our airports.

Paris Aéroport ❤ Music

Whether it's intimate sessions, concerts with the public, electronic, pop or classical music, Paris Aéroport shows you a piece of its Parisian DNA.

Duty free shopping guide!

Enjoy the best of Paris without tax refund formalities by shopping in the duty free shops of Parisian airports